Babies are costly. Whether you have a newborn baby, a toddler, or a kid, there's always something you need to buy for them.
Did you know that Amazon has huge savings and daily deals on baby products?
Some days, you can get incredible discounts on baby stuff up to 83% OFF!
Every day, they have something else on sale and different active deals.
Go here to see today's Amazing Deals and get cheap baby stuff.
How do the Amazon Daily Deals Work?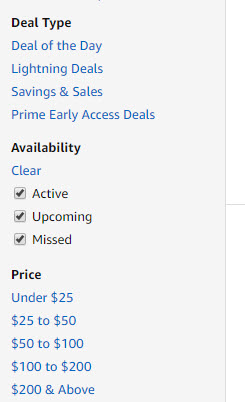 There are different categories for deals. You can filter the deals by product category (baby stuff, jewelry, cosmetics, food, household items), by price range, by deal type, and by reviews.
You can also filter by current active deals, upcoming deals, or missed ones (in case you want to cry over the money you could have saved).
Here are the different types of Amazon product daily deals:
Daily Deals: products which are on sale and can be purchased at the current deeply discounted price.
Lightning Deals: These deals end in a few minutes or hours. They are sometimes quantity limited too. The deals are often bigger than the regular savings section or than the daily deals so keep an eye on these!
Prime Early Access Deals: huge discounts on new, soon-to-launch products (up to 81% OFF). This includes baby products, electronics, makeup, tech gadgets, useful inventions, household products, food, and more. However, you need to be a Prime member to get these discounts.
Example Daily Deals & Savings on Baby Products
Here are some example deals we saw when we last checked Amazon daily deals.
Save 30% on ErgoBaby Carriers, Car Chairs, Baby Strollers
ErgoBaby is one of the most popular baby brands for several good reasons.
Their award-winning ergonomic baby carriers are recommended by the International Hip Dysplasia Institute.
ErgoBaby sells 360 baby carriers & slings (which can be worn on the back or front), as well as baby wraps, baby strollers, nursing pillows, diaper bags, and infant car seats.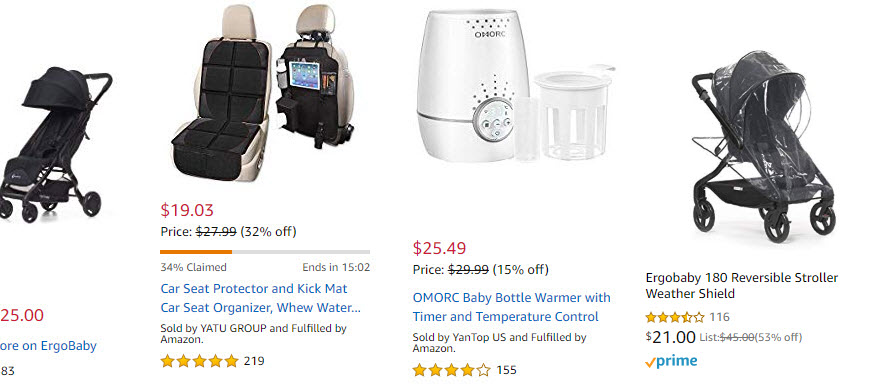 Cheap Children's & Baby Clothes on Clearance
Some of the daily deal items come from companies running clearance sales.
Amazon has a special category just for Baby Clothes & Accessories.
You can find all sorts of cheap baby clothing on sale including socks, cheap baby onesies, baby shoes, and affordable clothes for toddlers.
Save 15% on Baby Bottles, Bottle Warmer, Sippy Cups & More!
Need a baby bottle warmer? In the Amazon daily deals section, you can find cheap baby bottles & baby bottle warmers.
The last time we looked, Amazon had big discounts on plastic baby bottles, as well as glass baby bottles.
You can also save money on baby Sippy cups and spill-proof tumbler cups for kids.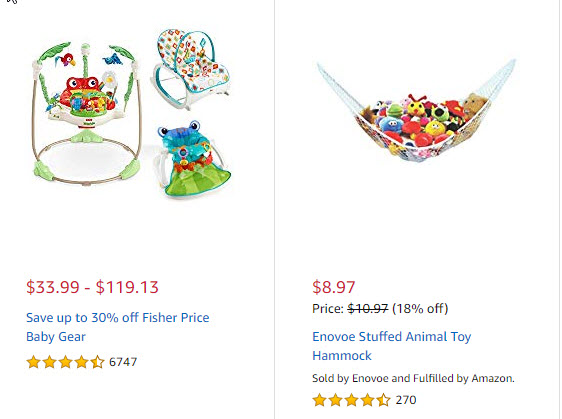 Cheap Baby Toys with Big Savings
The daily deal section has all sorts of cheap baby stuff including baby toys, cheap stuffed animals for kids, toilet seats, potty training gear, and more.
Go here to see Current HOT Deals on Amazon.