Amazon Prime members can now get FREE Audible audio books and access to Audible Audio Channels!
This sounds very exciting, however, there is a catch.
As an Amazon Prime member, you can read for free 1,000 books, children's books, magazines, newspapers, short stories, and choose from 50 free audio books which are included in the Amazon "Prime Reading" content library.
Yep, you only get access to 50 free Audible audio books which Amazon decides to give away for free. That's not such a big selection.
Audible's audio book library has over over 180,000 awesome audio books in every genre including audio books from top famous authors and bestselling books. Audible members can also listen to unlimited romance audio books from famous authors like Nora Roberts.
If you want to listen to any full-length audio book you want, join Audible for a FREE 30-day trial.
As a member of Audible, you'll get 3 free audio books per month and as many free romance audio books as you want.

So Amazon Prime Members Don't Get Free Audible Audio Books?
Amazon says Prime members can read/listen to "unlimited" books and Audible audio books (which are included in the Prime Reading section).
This is a bit deceiving.
Yes, you DO get unlimited access to their "Prime Reading" library of 1,000 books & 50 audio books. But not unlimited access to all books on Amazon or all audio books on Audible.
How to Get Free Audiobooks with Amazon Prime?
If you aren't an Amazon Prime member yet, get a free 1 month Amazon Prime trial here.
Head over to your "Prime Reading" section and look for a book you want to read. If that book includes an Audible narration (audio book version), you'll get both and be able to either read the book or listen to the audio book.
Amazon Prime audio books can be downloaded to any device. You can listen to Audible audio books from your phone, your Echo device, tablet, computer etc.
Amazon Prime members also get free access to Audible channels.
What are Audible Channels (aka Audible Shows)?
Audible Channels or Audible Audio Shows are basically podcasts without ads. Audible has various podcasts including ones about problematic teens, comedy, psychology, politics, parenting, and news from New York Times, Washington Post, and the WallStreet Journal.
Audible podcasts are different than audio books. Audio books are specific novels or stories read out loud. Podcasts are like talk shows, where the podcast hosts share ideas, discuss various topics, or entertain listens with funny stories and jokes. 
Some example Audible comedy shows include: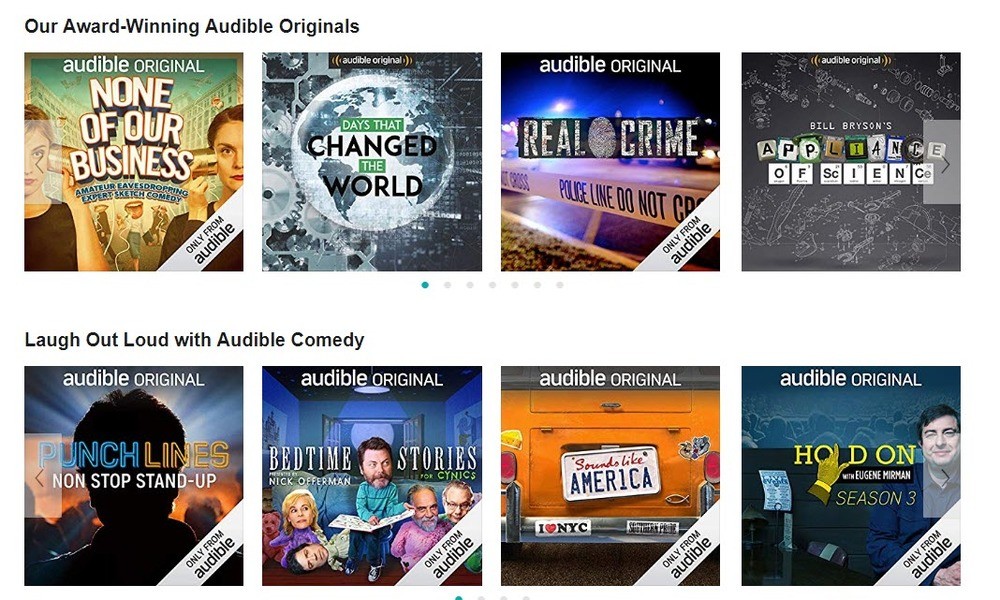 Our Review of Free Amazon Prime Audio Books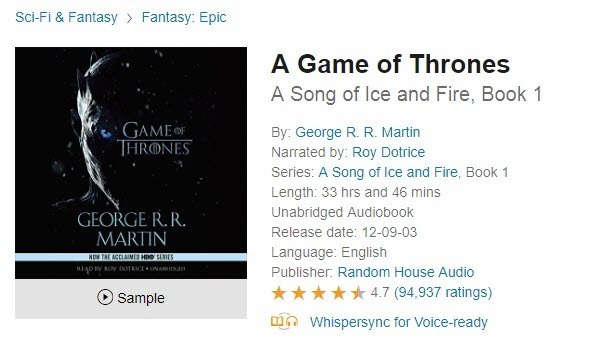 If you have an Amazon Prime membership, the free audio books is another perk and you might find something you want to listen to. Go here to get a free 30 day trial of Amazon Prime.
If you want to listen to a particular famous audio book which is not included with your Amazon Prime membership, or you want to listen to more audio books, join Audible.
You can get a FREE 30 day Audible trial which includes 3 free audio books. If you didn't enjoy the audio books you can digitally return them and download other audio books instead. 
What are Benefits of an Amazon Prime Membership?
FREE shipping. Fast, free delivery on over 100 million items. Free same-day delivery in 8,000 cities and towns.
Free 1-hour and free 2-hour delivery on thousands of food items and household items with Prime Now in select cities.
Exclusive brands, savings, and deals available only to Prime members.
Watch for FREE thousands of popular movies and TV shows, as well as live event streaming, and cinema classics.
Amazon Prime members can also watch award-winning Amazon Originals like The Marvelous Mrs. Maisel, as well as exclusive series available only with Prime, including Goliath, Sneaky Pete, and The Grand Tour.
Stream over 2 million songs for FREE including top hits. Listen on any device (online or offline).
Free Twitch Prime membership and games.
If you're a new mom or an expectant mom, when you create a Baby Registry as a Prime member, you'll get a FREE box of baby stuff products and gifts!
5% Cash Back for eligible Prime members with the Amazon Prime Rewards Visa Card.
20% OFF diapers and baby food.

Unlimited, free photo storage.
Go here to join Amazon Prime for a free 30-day trial and get access to free audio books and books in the Prime Reading content library.
Info about Amazon Audible Audio Books
There are many questions about Amazon and Audible audio books. Here are our answers to the most common questions about Audible trial and audio books.

Is Amazon Audible included in Amazon Prime?
As an Amazon Prime member, you can listen to a pool of 50 Audible audio books for free. You can't choose 50 audio books you want from Audible's huge library, you can only listen to 50 audio books Amazon gives away for free.
How much does Audible cost with Amazon Prime?
Audible costs $14.95 per month after the initial free trial month.
What audio books are included in an Audible membership?
You can listen to 3 free audio books of your choice, and unlimited romance audio books.
The free audio books include 1 audio book from any author/narrator and 2 Audible originals. Audible records great sounding professional audio books with famous readers. They have many Original audio books in every genre.
How do I buy Audiobooks from Amazon?
If you want to buy audio book CDs, you can do so on Amazon. If you want to buy a digital audio book from Audible, join Audible, and then purchase the desired audio book on Audible.
Can I buy a single audio book from Audible?
Yes, you can buy any single audio book you want even without an Audible membership.
Can you share an Audible account?
Yes, you can share your Audible account with your family members! Audible has a feature called Family Library Sharing which lets you share your Audible audio books with members of your Amazon Household. 
You cannot share an Audible account with strangers. (Technically, you could give someone your logins, but that's dangerous because they can see your credit card and shop till they drop on your card!)
How do I use Audible with Amazon Prime?
Audible is a separate website from Amazon.com. Signup at Audible for a free Audible trial.
If you use the signup link above, you'll get double the amount of free audio books and unlimited free romance audio books during your trial!
How do I listen to Amazon Audiobooks?
After becoming an Audible member, either log in to your account online or open the Audible app on your device(s). Select the audio book you want to listen to, tap "Listen" and enjoy listening to it!
Is Audible part of Prime?
Audible is not part of Prime. However, with Amazon Prime, you can listen to 50 free Audible audio books and to free Audible podcasts.
Can I get free Audible audio books with Prime?
You can get access to a pool of one thousand books and magazines, and 50 audio books which are included in Amazon's "Prime Reading" content library. 
Is Audible worth it?
That depends on how much you like listening to audio books. 
Audible has a huge library of audio books (180,000+) so you'll have plenty of audio stories to choose from.
If you have kids, you can play parts of a long audio book story to them whenever you want to entertain them or play bed time stories. Audible has a podcast with tons of bedtime stories.
They also have news podcasts and stand-up comedy podcasts free of ads. 
You're not going to get a better deal than Audible's membership in terms of quality of audio books, selection of audio books, and price.
Instead of paying $30 for one famous audio book, you can get 3 titles per month for only $15! That's a great discount deal.
Where can I see a list of Amazon Audible Books?
After joining Audible, you can browse their huge library of audio books and download their audio book app to all your devices. You can browse Audible by genres or by recent releases, most popular audio books, or editor's picks. 
How to Listen to Audiobooks on Kindle app?
Many Kindle books have complementary Audible audio books. However, not all Kindle books have an audio book. If yours has an audio book version, here's how to listen to the Kindle book:
Go to your Home screen of the Kindle app for iPhone, iPad, and iPod Touch. Tap a Kindle book to open it.
While reading, tap the center of the screen, and then tap the Listen icon.
From the mini-player screen, tap the Download icon to begin downloading the audio companion.
Does the Kindle app have audio books?
You can listen to Audible audio books through the Audible app or the Kindle app. See above for how to listen to audio books in the Kindle app.
Can you read and listen to audiobooks on Kindle?
Yes, you can listen to audio books in the Kindle app and read the books. However, not at the same time. You can easily switch between reading and listening to Kindle books. Amazon will automatically move you to the right position in the book. 
This is great if you want to continue listening to a gripping book you were reading while doing housework or preparing dinner.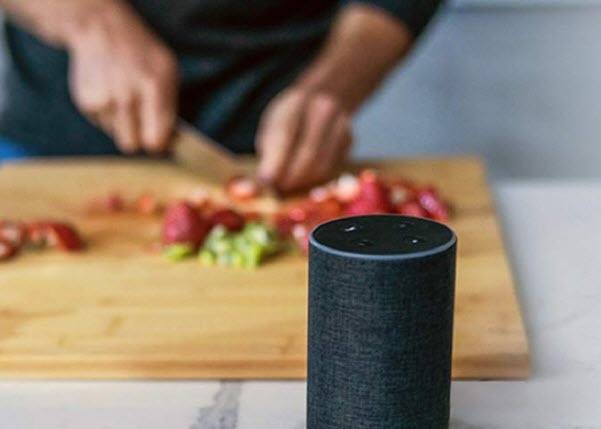 Instead of paying for an audio book, what happens if I illegally download a stolen audio book?
You could be fined up to $500,000 by the FBI per audio book you download illegally, and get up to 10 years in jail according to the Digital Millennium Copyright Act.
Besides, your computer will likely be infected and hijacked. The only reason criminal gangs share "free" stolen products online is to gain control over computers which download the files.
What was the most popular audio book of 2018?
Ready Player One.
What is an audio book?
Audio books are recordings made of reading a book out loud. 
Other synonyms for audio books include book on tape, talking book, taped book, and book cassette. They all the mean the same thing.
How many audio books does Audible have?
Audible's audio book library has 180,000+ audio books and growing!
To read all about the history of Amazon, visit Wikipedia.