Psychic Katie is a famous Clairvoyant and Psychic Artist who paints the past lives of cats and dogs.
Katie's past live paintings are incredibly beautiful, reminiscing of the Good Old days.
She paints digital oil paintings in the style of the vintage Great Masters.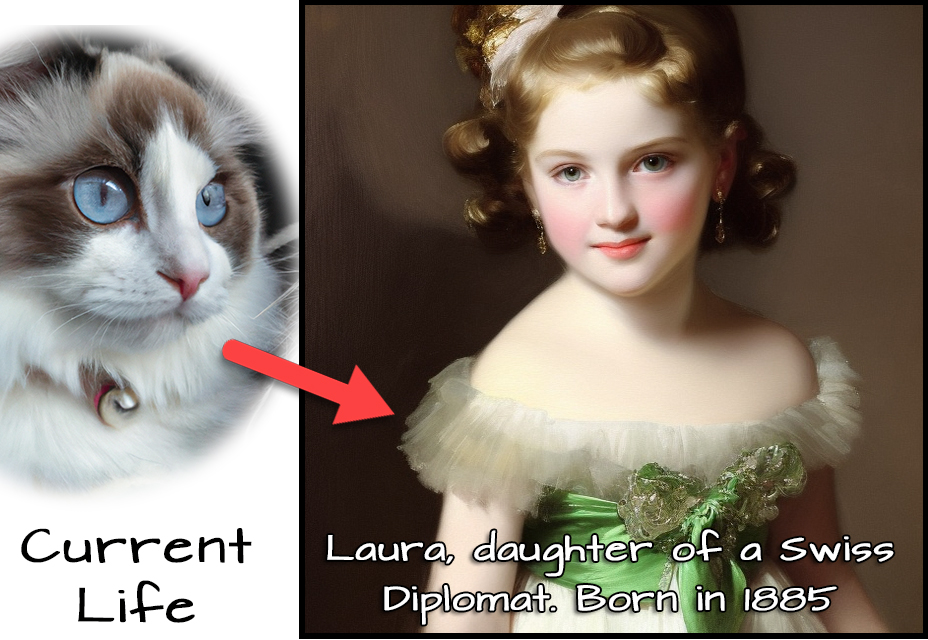 Cat past life painting by Psychic Katie
Katie believes that all of us have immortal souls who have gone through many incarnations.
"Some cats have over 100 past lives." Katie said, "While some others are 'young Souls' who only had 12 past lives."
FurbabyPastLife.com is Katie's website where cat owners can order a custom past-life painting.
Influencers are raving about Psychic Katie's stunning past life paintings and past life readings.
Katie's been featured on Buzzfeed and multiple news sites!
How to get a Cat Past Life Painting from Psychic Katie
You can easily order your cast's past life painting now online on psychic Katie's website furbabypastlife.com
After purchasing, you'll be redirected to a page with a simple form. You'll need to provide a picture of your cat as well as its name, approximate age, and gender. You can also ask Katie your most burning question about your cat's past life.
Once Katie receives your information, she will schedule your past life painting.
Katie connects to cats' souls by looking at their photo and focusing on them.
During her trance, she receives visions of their past lives from her spirit guides (Higher Dimensional beings).
Psychic Katie will paint the person she saw your cat was in a former life.
Katie will email you the digital painting of your cat's past life within 4-7 business days.
You'll receive instructions on how to print it online if you wish to turn it into a wall art print.
You can easily print your digital painting online or locally. There are many services that offer a variety of art prints from an affordable poster, to a canvas print that resembles a real oil painting, to a museum-quality Fine Art print.
With your permission, Katie may also share a photo of your cat on her social media.
Along with your cat's past life painting, you'll also receive a past life reading that describes who your cat was, where they lived, if they were happy, how long they lived, what they did as a job/occupation, who their parents and siblings were, who their spouse and children were and anything else Katie may see in her visions.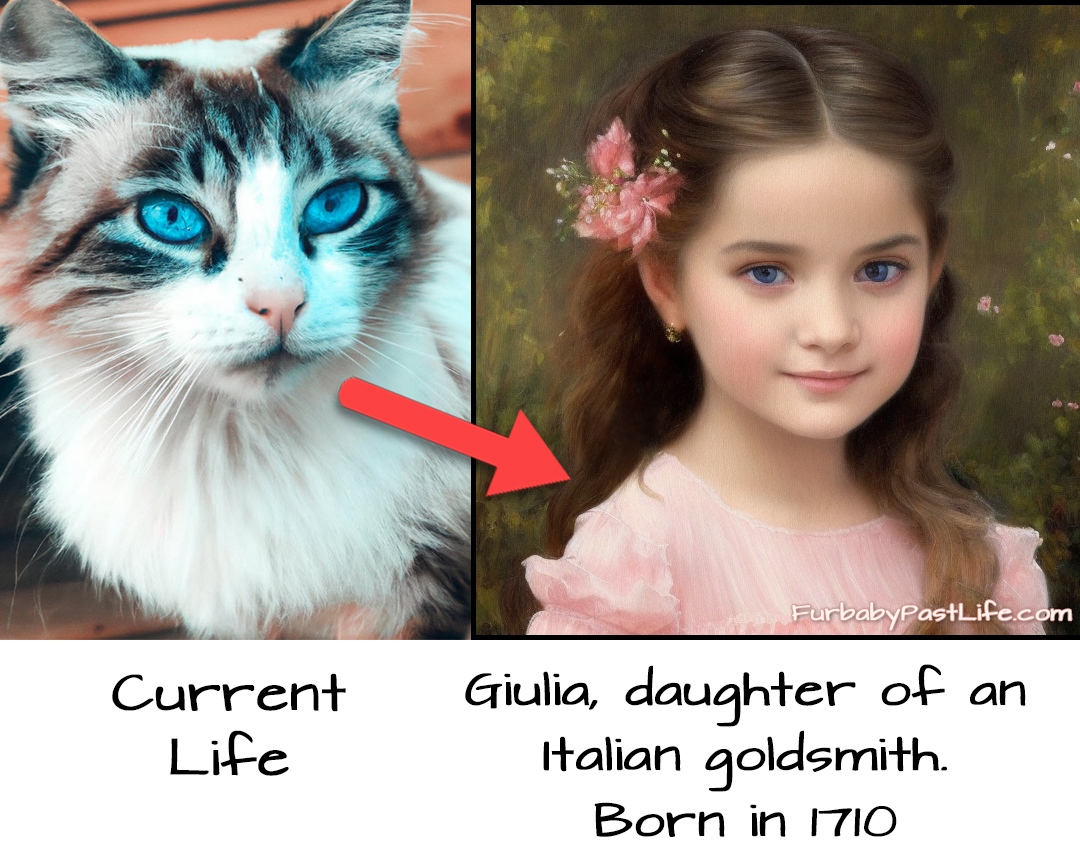 How to save 70% on FurbabyPastLife.com painting & reading by Katie
Use this special link to get a HUGE discount on a cat past life painting and reading from Psychic Katie.
How many past lives are there?
It varies from person to person, and from animal to animal.
Some people have had 50 or more past lives – as humans and animals, on this planet and on others.
The Universe is trillions of years old. Over trillions of years, there were creatures alive in different galaxies, planets, Dimensions…
When they died, where did they go? Their bodies dissintegrated but their souls which are pure energy remained fully in tact.
These immortal souls reincarnated into new physical bodies.
What are psychic past life readings?
Certain Clairvoyants and Psychics have the power to see back in history into past lives.
They then write about their visions, sharing details about the past life. This is called a psychic past life reading.
What is "past life regression"?
It means mentally "regressing" into the memories of a past life. In simpler terms, it's a way to access lost memories of who you were in a past incarnation.
There are certain past life regression hypnotists around the world who use hypnosis to help people remember their past lives. The memories people share while under hypnosis are shocking! Scientists are completely unable to explain this strange phenomenon.
How can I find out who my cat was in a past life?
Order a past life painting and reading from psychic Katie. She is the only psychic in the world who can connect with pets and paint their past lives.