Find out all about how the Amazon Wedding registry works and how to SAVE BIG on products you want.
How does the Amazon Wedding Registry Savings Work?
When you create a wedding registry on Amazon, you'll enter the date for your wedding. After the wedding is over, you'll get a big discount on everything left in your registry which the guests didn't buy.
If you'r ea Prime member, you'll get 20% off everything in your registry, if you're not a Prime member, you'll get a 10% discount.
What Free Gifts do I get with an Amazon Wedding Registry?
When you add products to your registry and your guests purchase products from a specific brand, you'll get free gifts!
What you get exactly will depend on current promotions.
You could get a free stir fry pan, a free grill, free baking and cooking appliances, free body lotions and creams, a free blender, free wine cups, and more free gifts.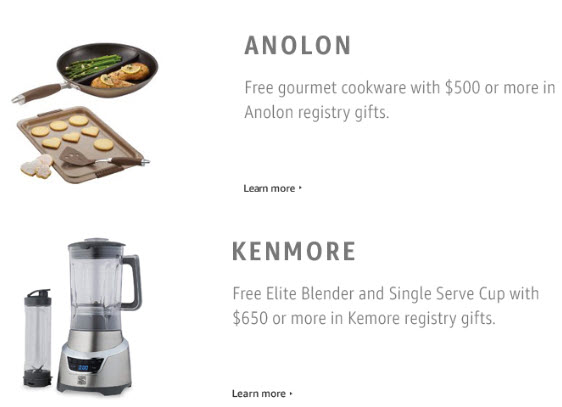 What is a Bridal Wedding Registry and Why Should I Make One?
A wedding registry (also called a bridal registry) is a list of items you want. 
Brides share this list with family and friends so they'll know what gifts to buy for you.
Bridal wedding registries are great because this way no one buys the same items for you, no one buys useless things you don't want (like 1,000 plates), and friends can chip in together towards big, expensive items you want.
Why is the Amazon Wedding Registry the Best Registry?
You can add products from any website in the world to your Amazon registry. Not just Amazon products, any products from anywhere!
If you saw something nice on BestBuy, you can add it to your Amazon registry.
If you saw something in an online boutique you want, you can add it to your registry as well.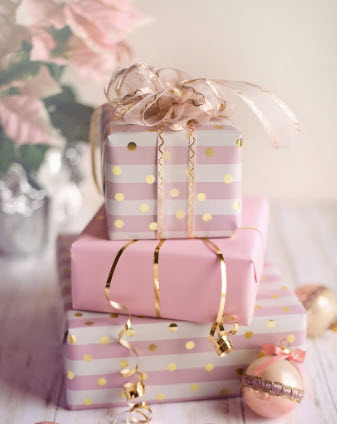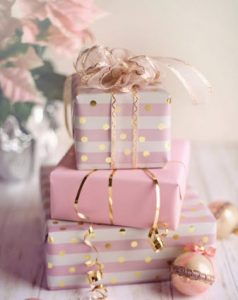 Group gifting! Some products are very expensive and if your guests aren't rich, it might be hard for one person to buy a gift for hundreds. However, it's easy for many people to pitch in and buy the gift together.
Group gifting is like crowd funding. Many friends can pay for one gift together.
This way, you won't just get people buying all the little cheap items from your registry, but you'll also get them buying the big, expensive items you want.
Gift financing. Your loved ones can use an Amazon Store card to get financing to buy the gifts they want for you even if they don't have money right now.
You get 180 day returns! If you don't like something your guests purchased, you can return it for half a year.
FREE shipping! If you're a Prime member, you'll get completely free shipping on any products regardless of their size (orders have to exceed $25).
20% savings on products in your registry! As a Prime member you'll get 20% savings on items remaining in your registry after your wedding (non-Prime members get a 10% off).
5% cash back! If your guests use an Amazon Store card when purchasing, they'll get a 5% cashback on products purchased from Amazon.
Free gifts! If your guests buy a certain amount of products from specific brands, you'll get free gifts from these brands.
Create Your Registry!
What are some wedding registry must-haves?
Go here for a list of the most popular products brides add to their registries.
Most brides add useful items like cookers, grills, silverware sets, garden products, bedroom products, bathroom products, towels, sheets, pillows, carpets, furniture, blenders, food processors, coffee machines, pots, pans, and kitchenware items to their registry.
Is a bridal registry different from a wedding registry?
Bridal registries and wedding registries are the same thing. It's just a different way to call it.
Are wedding registries rude?
If you live in a country where it's traditional for people to bring gifts to your wedding, then a wedding registry isn't rude. It's helpful!
A wedding registry lets them know what you need, and what other people already bought. This way, guests don't waste their money (and your time returning unwanted gifts).
It IS considered rude to only add very expensive products to a bridal registry (unless all your friends are very affluent). Be sure to add all sorts of priced items to your wedding registry. So if someone can't afford the expensive washing machine, maybe they can buy you a set of pots you need.
Some brides are shy to announce their wedding registry to their friends and family and wait for them to ask if they have one. Other brides announce it after sending out invitation cards. It's up to you and how you feel.
If someone asks you if you have a bridal registry, definitely give them a link to it.
What should you NOT put on your wedding registry?
Avoid adding embarrassing, intimate products.
Also, avoid adding products which will only be used by you. For instance, hair spray, jewelry. If all your friends just buy gifts for you, your husband will feel left out and a bit jealous.
Add products which will be needed for your new life with your spouse, such as useful household items, bath products, bedding, towels, silverware, garden products etc.
Can you put furniture on your wedding registry?
You can put anything you want on your registry including expensive furniture or cheap household items. 
Because the Amazon bridal registry allows people to buy a big product together, don't be shy to add expensive items since several friends can buy it together.
Create Your Wedding Registry!