Choosing the right baby bottle can be confusing and a difficult choice. Some baby feeding kits cost $22 or more.
In this article, we'll share why Dr. Brown is one of the most popular best baby bottle brands and why moms love these bottles.
If you're unsure which baby bottles to choose, go here to get FREE baby bottle samples.
What is Special About Dr. Brown baby bottles?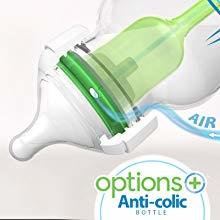 Dr. Brown baby bottles have been clinically proven to prevent gas, air-intake, stomach ache, and to reduce colic in babies. The Dr. Brown bottles were created by a pediatrician and are widely recommended by parents, nutritionists, doctors, and healthcare practitioners.
Because of the baby bottle's unique shape, there are less air bubbles and your baby will inhale less air. This results in reduced amount of belches, burps, gas, puking, and belly pain.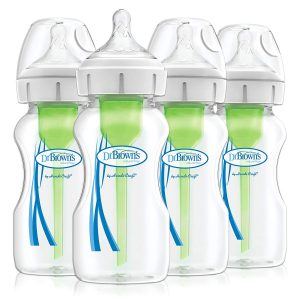 Also, a recent 2019 study reported that because Dr. Brown baby bottles have a special venting system which prevents air from coming in, it also preverse nutrients better and longer (including those found in baby formula and breast milk).
Dr. Brown sells both BPA-free plastic baby bottles as well as anti-colic glass baby bottles.
The Dr. Brown bottles are both anti-colic and anti-gas bottles.
Go here to get the best deals on Dr. Brown baby bottles.
About the Dr. Brown Options+ Baby Bottles
This baby bottle's nipple is made of high-grade, soft silicone shaped like a nipple which is easy for babies to grasp and suck on. The Dr. Brown bottles are great if you're bottle-feeding or also breast-feeding sometimes.
Enhanced Internal Vent System
The new anti-colic internal vent system better preserves nutrients, and aids in digestion for a good night's sleep.
For what ages can you use the Dr. Brown baby bottles?
You can use these baby bottles for newborns as well as infants and toddlers. You can simply remove the air vent on the baby bottle as your baby grows.
Can I put Dr. Brown bottles in a dishwasher?
Yes, Dr. Brown baby bottles are both microwave and dishwasher safe.
How do you use an Anti-Colic Bottle?
Just like a regular one! You fill it with milk and let your baby drink from it. There is no difference in how anti-colic baby bottles are used.
Do Anti Colic Bottles Help with Wind?
"Vent on the bottom helps keep air from getting into baby's tummy." "Equipped with a specially designed anti-colic air system." "Scientifically proven to reduce colic and general discomfort." "The wide neck also makes the bottles easy to clean by hand."
How do Anti-Colic Babies Bottles work?
An anti-colic bottle is designed to allow air to flow up through the straw, rather than through the milk.
This prevents an air vacuum buildup inside the bottle which would cause air bubbles and pressure.
Avent anti colic vs Dr. Brown babies bottles
With baby bottles, it's hard to say which one is the best.
Both Philips Avent anti-colic bottles and Dr. Brown bottles are loved by moms. The best way to find which bottle works for your baby, is to get free samples of both bottles.
What is the best bottle to reduce colic and gas?
Dr. Brown bottles are the most popular anti-gas and anti-colic baby bottles. Avent baby bottles are also great, as are MAM baby bottles, and NUK bottles.
How long do you use anti colic bottles?
Some moms use nothing but anti-colic bottles for their baby to prevent colic even when their baby doesn't have colic. It's up to you to use the bottle for as long as you want.
Go here to get FREE anti-colic baby bottle samples.