Amazon has tons of free to enter giveaways. Some days, there are over 8,000 active free Amazon giveaways!
Because anyone can start a giveaway on Amazon (even individuals) and there are so many free giveaways, people are wondering if these giveaways are legit or a scam.
In this article you'll find out everything you need to know about Amazon sweepstakes & giveaways, as well as how to win cash and gift cards.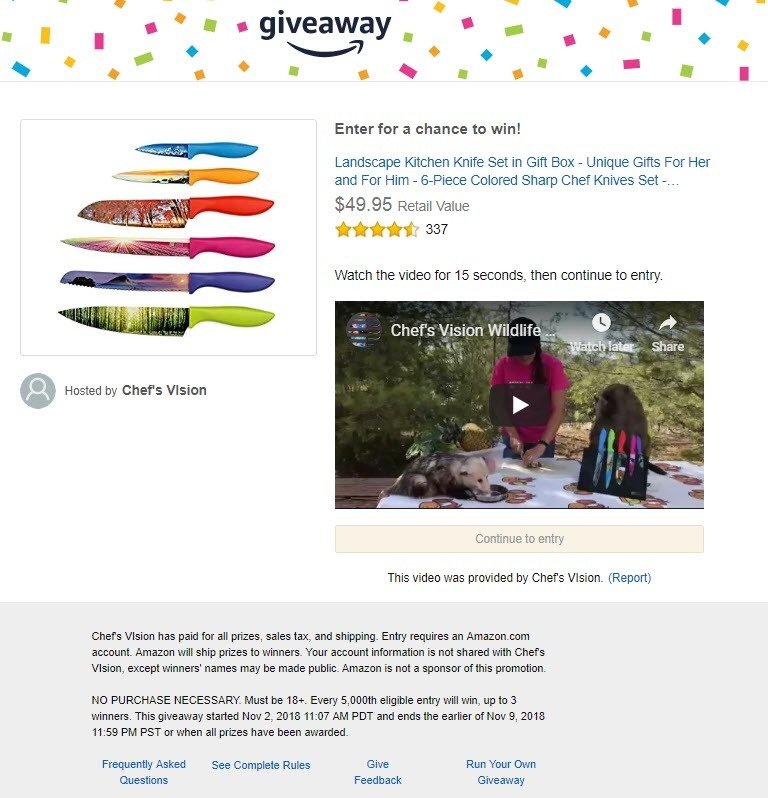 How do Free Amazon Giveaways work?
It's completely free to enter an Amazon giveaway.
The giveaways are like instant win sweeps, meaning you'll see instantly if you won or not. 
If you win, Amazon will ship your prize to you free of cost.
The person or company who runs the Amazon giveaway will never see any information about you apart from your name.
Even though there are thousands of giveaways, many giveaways only have tiny prizes worth a few dollars.
How to enter these Free Giveaways?
Most of the time, all you have to do is click on a brown box which is jumping up and down on the giveaway's page. After clicking the box, Amazon will tell you if you won or not.
However, sometimes you'll have to do a small action to enter. Some of the free sweepstakes require you to watch a commercial, follow the company on Amazon or do some other task in order to qualify to join.
On the bottom of the Amazon giveaway's page, you can see the rules. Every giveaway states who is eligible to win.
Usually anyone over 18 who lives in America is eligible.
How are winners chosen?
After every certain amount of entrants there is a winner. Sometimes it's every 3,000 entrants, sometimes every 5,000.
If you're the lucky 5,000th entrant, you might win the giveaway's prize!
Who runs the Amazon Giveaways?
Anyone can start a giveaway, however, most of the Amazon giveaways are run by the companies who make the products.
Are Amazon Giveaways a scam?
The giveaways are legit and there are always winners. Winners are guaranteed by Amazon!
When a company makes an Amazon sweepstake, they have to buy the prize in advance. The prize is then held by Amazon and delivered by Amazon to winners.
What prizes can you win?
You can win all sorts of electronics, gadgets, household items, toys, health products, beauty products and more.
Most products are worth $20-$50. 
Go here to see current Amazon giveaways.
How to Win Cash & Amazon Gift Cards?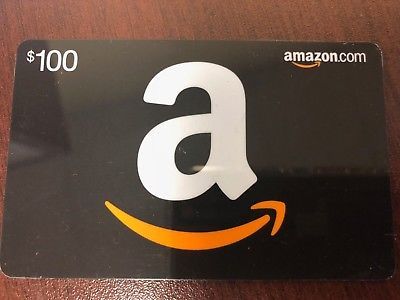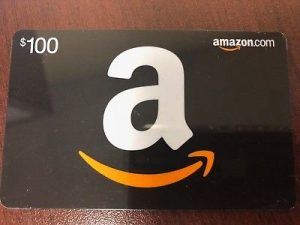 If you need cash or want to buy a particular item, it's smarter to spend your time entering giveaways which have cash prizes, expensive products, or Amazon gift cards worth $100's instead of entering thousands of giveaways with tiny prizes worth a few bucks.
You can do a lot more with a $500 Amazon gift card then with a pair of scissors worth $12 which you didn't even need!
Here are several current FREE sweepstakes where you can enter to win cash and gift cards. 
Win $2,500 from Amazon! Official Sweepstake by Amazon.
If you're pregnant or recently gave birth, you could win $2,500 EVERY MONTH in a secret, free sweepstake run by Amazon!
To enter this sweepstake, simply create a baby registry and add 3 Britax products to your registry.
That's it! Amazon will notify you if you won.
BONUS: If you're a Prime member, you'll also get a Welcome Box full of baby products! 😀 (Go here to get 1-month free Prime membership if you don't have Prime to get your Welcome Box.)
Win $500 every day! Free to enter daily instant win sweep.
Are you a mom? Enter this free sweepstake to win $5,000 for a shopping spree.
Win $10,000! Free cash giveaway.
Instantly Win $150,000. Free to enter, instant win giveaway.
Here are 3 more top free sweepstakes which you can enter to win expensive products which you can sell online for a lot of money.
Go here to discover how to Get FREE Amazon gift cards online worth $100's!