Did you know that when you make a free baby registry on Amazon you get a box of baby freebies?
Amazon is quite generous with their free baby items and include both samples and full-sized products.
The Amazon baby registry welcome box contains more free babies stuff in it than gifts from any other baby registry.
Who can get the Baby Freebies from Amazon?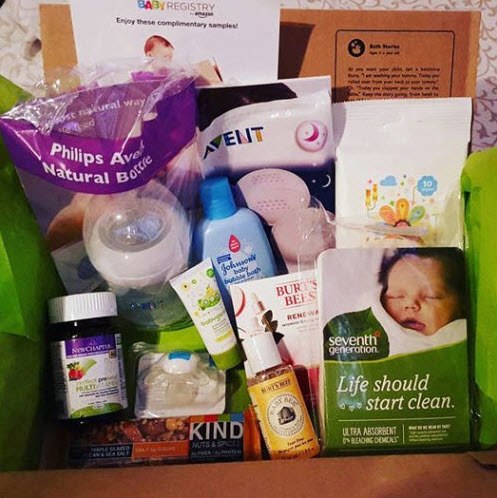 Anyone who lives in the US. Woman or man, pregnant or who already gave birth! All you need to do is create a baby registry.
Depending on which brand is currently running a promotion, what you get in the box will vary.
What Free Baby Items come in the Amazon registry Welcome Box?
Here's a list of all the free baby stuff you get from Amazon:
Free baby diapers sample packs from brands like Pampers or Huggies or Luvs or Seventh Generation.
Free baby formula and baby food samples. You could get Enfamil samples, Gerber formula, or Similac formula samples. Amazon sometimes sends baby food samples from new upcoming brands including high-quality Organic baby food.
Free baby bottles. Exactly which bottles you get is a surprise but you can expect to get at least 1 or 2 from top brands. Moms often get free Dr. Brown bottles and sample Avent babies bottles.
Free pacifiers for your baby.
Free wipes and lotions.
Free baby skincare sample creams. For instance, you might get a sample Aveeno baby lotion bottle.
A free baby boy or onesie.
How to make an Amazon baby registry?
Go here to make your baby registry.
Add some baby items you want to have to your registry and then get your free welcome box by mail.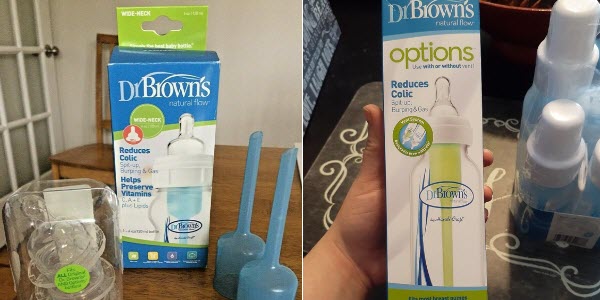 Amazon Baby Box Requirements 2020
Add at least 10 items to your registry to qualify to get the free baby box.
How Many Baby Samples come in the Amazon Baby Registry Welcome Box?
The amount of items vary depending on which brands are running promotions currently but it's usually packed to the brim. Amazon always has some brands who want to promote their products, whether it's giants like Huggies or a new brand producing quality organic cotton baby clothes.
What is a Baby Registry?
It's a list of baby stuff you want to have. You can share a link to your registry with friends and family so they can buy the exact baby items you want for your baby shower.
How does the Amazon baby registry work?
You can add items you like and want from any website in the world to your baby registry on Amazon.
Do I have to buy the items in my Baby registry?
No, you don't! A baby registry is a wishlist, you don't have to buy all or any of the items on your registry. You can ask your relations to buy them for your baby shower.