Diapers are very expensive and babies need on average 10 diapers per day.
Most moms spend $960-$1,200 per year on baby diapers. This adds up to thousands of dollars just for diapers by the time your kid is potty trained!
1 in 3 families in America cannot afford to buy enough diapers for their baby.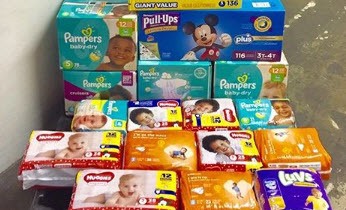 No wonder so many moms search online for free baby diapers online.
On this page, you'll find a big list of resources where you can get FREE baby diapers, wipes, samples, and free baby stuff including baby formula and baby bottles.
You'll discover the best ways how to get free baby stuff, free diapers, and very cheap diapers including how to:
Get a BIG free baby box with baby stuff from Amazon, and another free box every month from EDF.
Get many free baby diaper samples from different legit sites which give out free samples. Some sites give free samples every month!
Answer short surveys to get free baby diapers, baby products, and Amazon gift cards.
Become a product tester and write product reviews to get diapers and baby stuff for free.
Win baby stuff (and cash) in free to enter sweepstakes online.
Win $2,500 from Amazon to buy all the diapers you need.
SAVE BIG on diapers! Use big coupons, savings, and cashback offers together to get diapers for dirt cheap.
Enter free sweepstakes to win a supply of baby diapers for a year!
Request free diaper donations from diaper banks and charities.
Join diaper reward programs from brands to get more free diapers when you buy diapers.
Get free diapers from doctors and hospitals near you.
Bet you didn't think of this one: Let your baby pay for its own diapers by earning easy, fun money.
Find money you didn't realize Government might owe you (most people get $1,000) and use it to buy all the diapers you need.
Ready? Let's get started! 🙂
Where to Get a Free Baby Box with Diapers & Baby Stuff
1. Free Amazon Baby Box
Did you know that Amazon gives moms (pregnant ones and moms who recently gave birth) a big, FREE box full of baby stuff and diaper samples?
This generous box includes all sorts of baby products both full-sized and sample-sized. You'll get skin and health care products, toys, free diapers and wipes, free baby formula, snacks, baby creams, a free baby bottle, and more!
Check out this photo one mom shared of the Amazon baby box she got: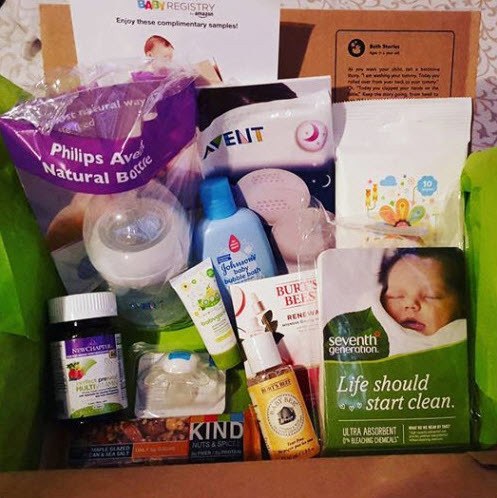 How to Get this FREE Baby Box from Amazon?
Carefully follow these instructions to get your free box of baby products.
Get a Free 30-day Prime membership if you're not currently a Prime member.
Add some baby stuff you'd like to have to your registry. You'll get your free baby box by mail!
Want more free baby stuff from Amazon? Get another FREE baby box with a free month trial of Amazon Family subscription.
Not a Prime member or already had a free Prime trial?
Here are the solutions to still get a free box (or multiple!)
Get a free trial of Amazon Family instead.
Ask your relations/husband/mom to get a free Prime trial and make a free baby registry on their accounts.
Who can get free baby items from Amazon?
Anyone can create a free baby registry on Amazon or join Amazon Family for a free trial.
You can create a baby registry on Amazon even if you already gave birth or if you're pregnant.
You'll only get the free baby box if you're a Prime member. 
If you're not currently a Prime member, get a FREE Prime membership before you make your registry.
2. Get a Box of FREE Baby Samples EVERY Month!
Join EveryDayFamily community to get a FREE box of baby samples from top brands every single month.
This is a great way to save some $$. Every month, the baby stuff box has different free samples depending on which brands are running a promotion.
Millions of moms love this site and get free baby diapers, wipes, lotions, creams, baby bottles, and baby stuff every month.
(Just look at how many fans, likes, and shares they have!)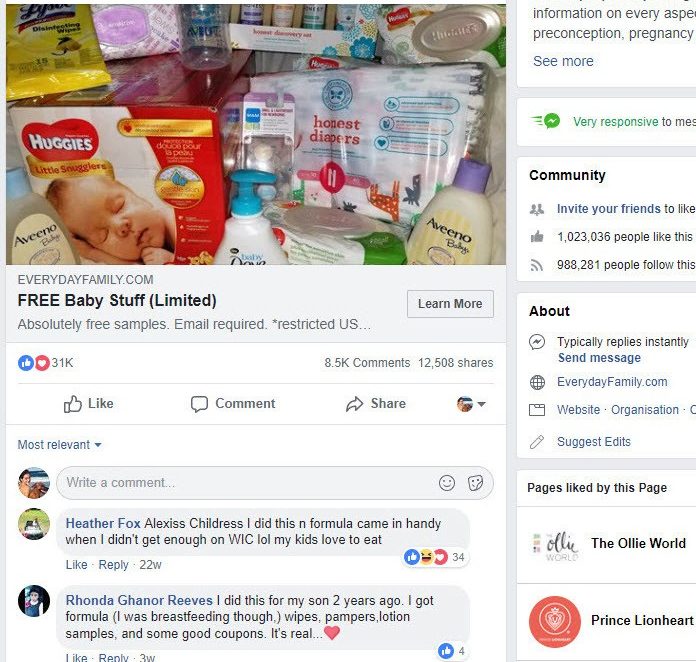 3. Get FREE Baby Formula worth $600!
Join EveryDayFamily for free and get FREE baby formula and big savings from Enfamil, Similac, and Gerber worth $600!
You'll also get BIG coupons worth $50+. Plus free baby formula samples every month.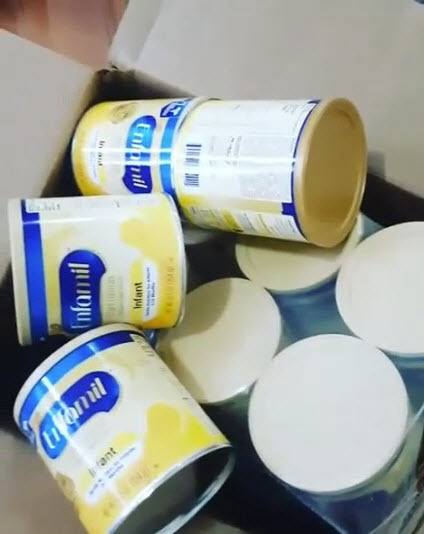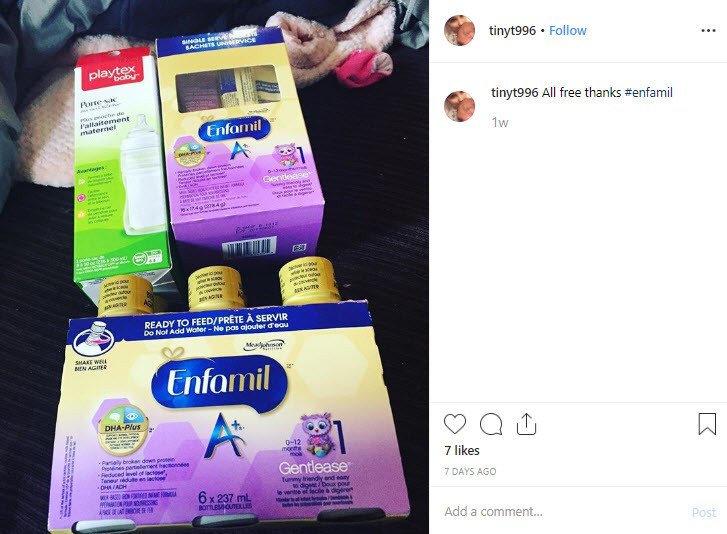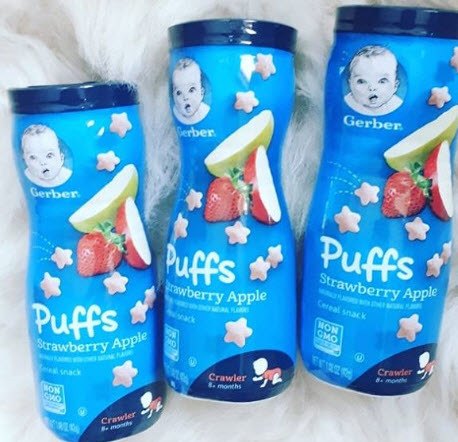 Win $1,000 of Free Pampers Diapers!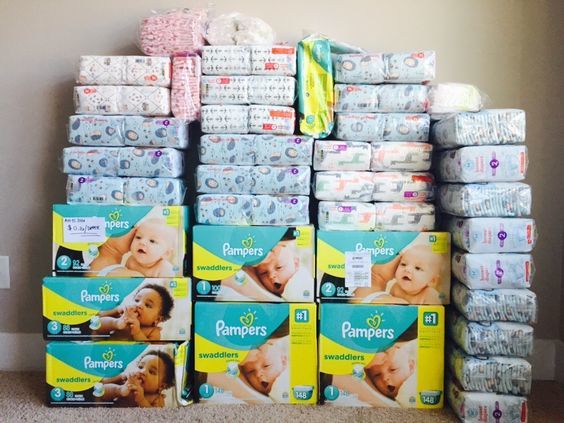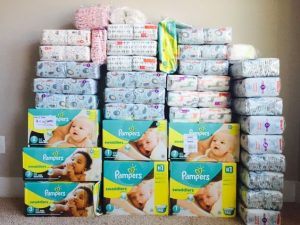 Go here to enter this sweepstake to win Pampers baby diapers for a year.
How Can Baby Diaper Samples help me?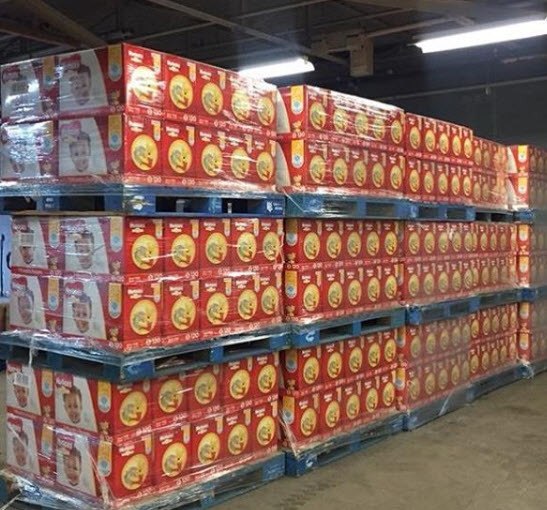 Many companies give out diaper samples hoping that you'll like their brand and start buying more diapers from them.
A box of diaper samples usually contains fewer diapers than a regular-sized box of diapers. However, every free diaper helps, and if you get enough samples from many different places, you could save money and not need to buy some diapers (maybe even for an entire week or two!).
Asides from the diaper brands who sometimes give out samples, there are also websites online and samples clubs which give out baby stuff and diaper samples.
Where to Get Baby Diapers & Samples
Here are the best places to get free samples and baby diapers.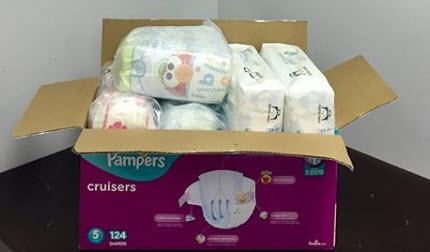 Free Diaper Samples Online from S&S Club
Samples & Savings is a free-to-join online club for moms who want to get freebies and samples. When you join S&S, you can request samples of diapers you want from every participating brand.
You'll receive the diaper samples by mail.  Go here to request free diapers & samples.
Free Baby Stuff Samples for Babies & Moms

This great website helps moms get free diapers, baby bottles, baby toys, creams, baby food, nursing bras, and more.
You can get as many free baby stuff samples as you want by requesting samples of many different products from many top brands and new companies!
Go here to get your free baby stuff.
Get a Box of Free Baby Stuff worth $200!
Join this huge, famous community to get free baby stuff worth $200!
The box includes free baby food, free Gerber baby formula, a baby bottle, bib, baby monitor, baby diapers, and more.

Get a Year's Supply of Huggies Baby Diapers!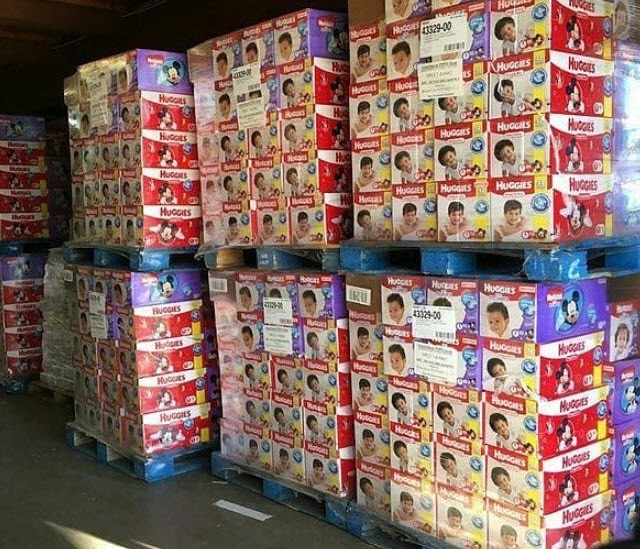 Answer a survey, complete some offers, and get a HUGE supply of Huggies baby diapers worth $1,000!
No more need to buy diapers for an entire year. Use that $1,000 you saved on diapers for something better. 
Get Many Free Samples for You & Your Baby
Go here to be the first to get the newest free samples and baby stuff.
You can get samples of household products, makeup samples, and baby stuff samples.
Free Diapers by Mail
Asides from these sites, check out the big diaper brands' websites. Sometimes, the companies give free diaper samples.
Even if you don't see free diaper samples advertised on their website, give them a call, tell them you're interested in trying out their brand, and ask them if they can send you free diaper samples by mail.
However, to avoid moms getting endless free diapers from them, the brands usually only give 1-2 free diapers or a small diaper pack, and usually only in newborn baby sizes.
These are the biggest brands which might give you some diaper samples: Huggies.com, Pampers.com, Luvs.com, GoodNites.com, Bambo Nature, The Honest Co.
About Free Huggies Diaper Samples
Currently, Huggies is only giving 1 free diaper sample pack per family in these countries: India, Malaysia, Singapore, Australia.
Go here for free Huggies samples in India: https://www.huggies.co.in/auth/free-sample
Go here to get Huggies samples in Malaysia: https://www.huggies.com.my/en-my/auth/try-a-sample
Get free Huggies diapers in Australia: https://www.huggies.com.au/free-sample
Free Huggies in Singapore: https://www.huggies.com.sg/request-sample.aspx
How to get free Pampers diaper samples?
Visit their contact page to see updates about where and how to get free Pampers diaper samples. They don't always have free samples available.
https://www.pampers.com/en-us/contact-us
Pampers also gives some coupons on their website, however, you'll find MUCH bigger savings in the coupon & cashback apps we mention further down.
Win Free Diapers & Baby Stuff in Free Sweepstakes
Win baby diapers for a year and win baby strollers!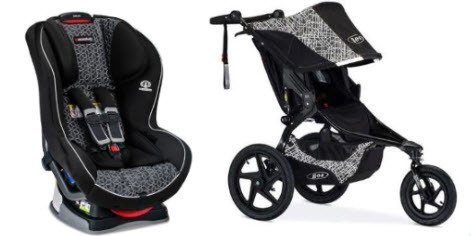 As a member of EveryDayFamily, asides from getting a monthly box of free baby stuff, you can join free DAILY sweepstakes with awesome prizes!
They have sweeps with expensive baby gear including strollers, carriers, slings, baby car chairs, and huge supplies of baby diapers.
Go here to join EveryDayFamily and enter their free sweeps.
Get a $500 Amazon Gift Card to buy all the baby stuff you need!
Take a short survey to instantly see if you qualify to get a $500 gift card so you can buy diapers for a year or other baby stuff. 
Get a $500 Amazon gift card on this site.
And afterward, see if you can get another $500 Amazon gift card here.
Win $2,500 every month from Amazon!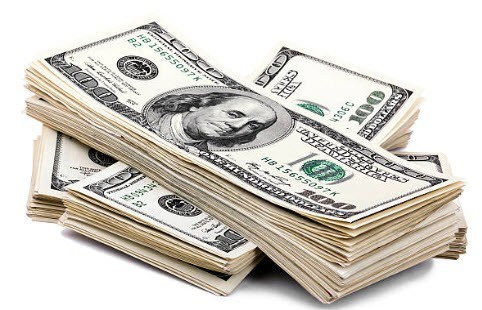 If you haven't created an Amazon baby registry yet, create one now for your chance to win $2,500 EVERY MONTH!
Go here to see a list of more current free to enter sweepstakes where you can win cash and expensive prizes.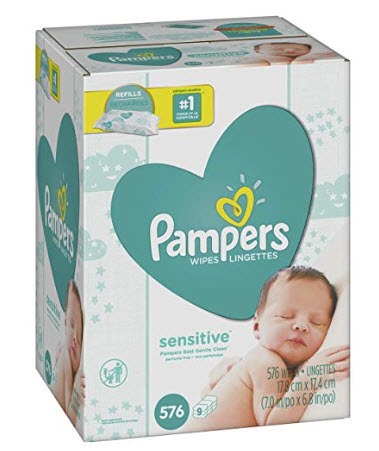 Pampers.com also has a free sweepstake for moms.
You could win a year's supply of free Pampers diapers.
Go here to enter.
How to Get FREE Baby Stuff worth $100's!
Did you know 100's of moms get expensive NEW products for FREE by applying to product testing jobs?
All you need to do is make a video review of a free product you get with your phone, and write up a small review about it.
Tell the company what you liked about the product and what you didn't like. It's really easy.
Best of all, it's free and there are tons of product testing opportunities every day!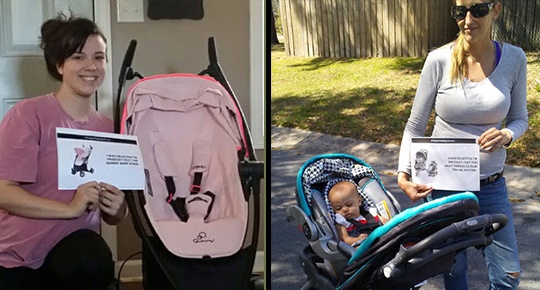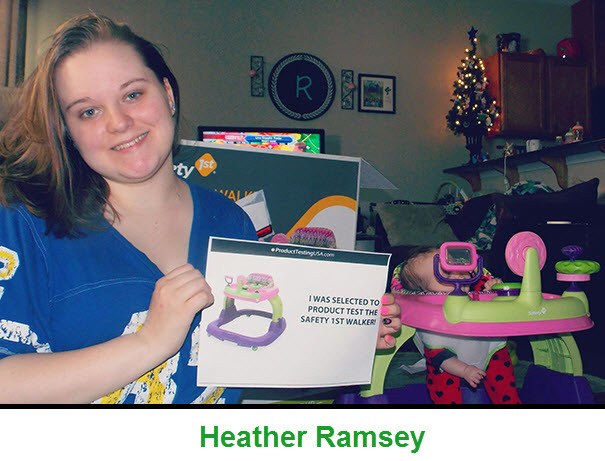 Where to find product testing jobs?
Product Testing is the best, legit website with the most product testing jobs for women and men of all ages.
They have 100's of reviews from happy members who get awesome products for free every day!
You can request all sorts of free baby stuff (baby joggers, baby carriers, baby toys) as well as many other products like home appliances, cool gadgets, electronics, 
TIP: The more products you request, the higher your chances are of being selected to be a product tester and the more free products you might get. 
Go here to request a free Graco baby jogger worth $330.
Get Free Diapers and Extra Money from Government Family Funds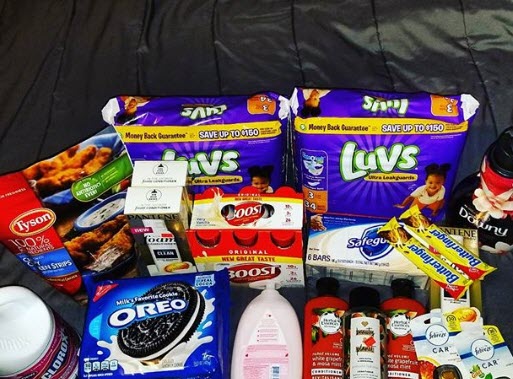 Did you know there are all sorts of little-known government financial funds and associations to help low-income families and single moms?
You can apply to get housing help, money to pay bills and buy food, and money for your kids.
Go here to discover the best ways how to get extra money from the government.
Get Free Baby Stuff & Diapers by Answering Surveys
If you answer paid surveys from brands, you can get in return free Amazon gift cards, money, and free baby stuff.
There are thousands of paid surveys available for US moms. It's also a great way to make extra money. Over 100,000 moms answer surveys in their spare time to make an extra income from home.
Go here for a list of top paid survey sites.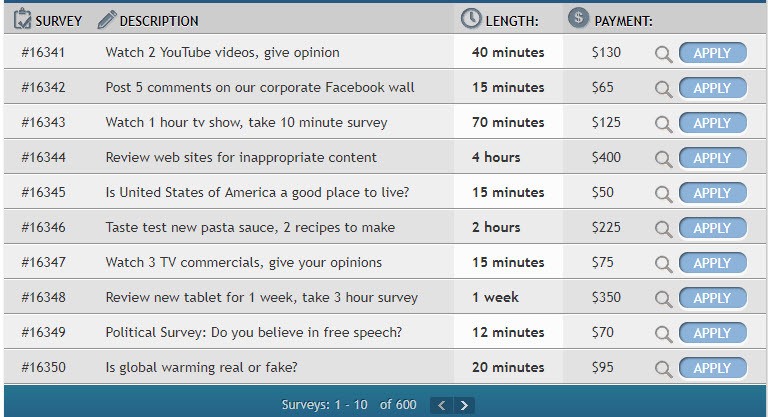 Buy Huggies & Get Free Huggies Diapers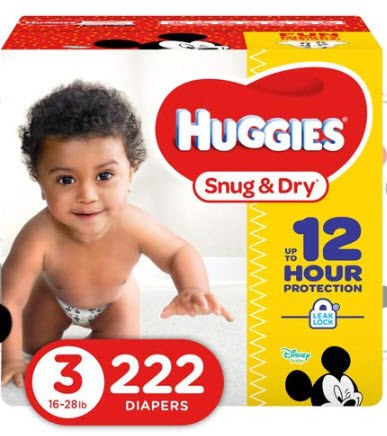 Huggies has an official Huggies Rewards Program. The more Huggies diapers you buy, the more points you get. You can redeem your points in various ways including entering Huggies sweepstakes to win baby stuff (diaper bags, carriers) or use your points to claim free diapers.
However, you'll need to buy a lot of diapers and get a LOT of points to get even just one box of free diapers.
On the bright side, if you are into sweepstakes, you can just join the Huggies Rewards Program to get 500 free points which you can use to enter several of their free sweepstakes.
How does the Huggies Rewards Program work?
Whenever you buy Huggies diapers, scan your receipt into the Huggies Rewards app to redeem your points.
Go here to join: https://www.huggies.com/en-us/rewards
Pampers also has a similar rewards program. If you prefer Pampers diapers, check out their reward program. The more Pampers diapers you buy, the more points you get, until eventually you can redeem them for free diapers.
How Can I Save on Diapers?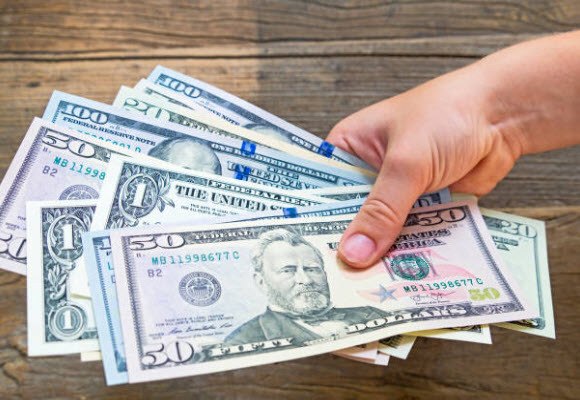 If you could only get really cheap diapers, you'd save so much money…
You probably heard some moms ranting about how awesome coupons and cashback offers are, and honestly, they're right!
Coupons can save you TONS of money on diapers. And by using multiple coupons and cash back offers at the same time, you can get diapers for so cheap it's almost free.
Find TONS of big coupons here. Save $200+ on everyday products.
SAVE lots of money on diapers, baby products, food, and everyday products, by joining eBates and getting Automatic Coupons, Price Comparison, and Best CashBack at 2,500 top online stores and brands.
If you buy diapers and baby stuff online, use this trick to get $10 free. Join TopCashBack and get $10 FREE cash back on your first online purchase!
You'll also get 10% cash back on every purchase you make at thousands of online stores and brands (including Amazon and eBay). This is a great way to save money when buying baby stuff online.
Get TONS of baby stuff for ONLY $1 from top brands! Baby diapers, wipes, bottles, toys, food, and more.
Use washable cloth diapers instead of throw-away diapers. This is one way to save money, however, washing cloth diapers is a lot of work. To get poo stains out of cloth diapers, you'll need to wash the diapers many times and use strong washing detergents (which also cost money). Plus, cloth diapers aren't absorbent like normal diapers. Cloth diapers stink, and often leak because they can't be tied as tight as regular diapers.
Ask for Free Diapers from Your Doctor and from Local Hospitals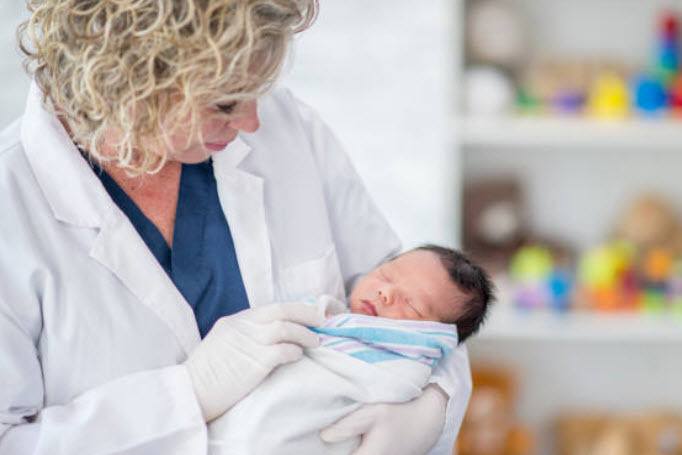 Visit local children hospitals and ask them if they can give you baby diaper samples. Some hospitals and doctors have samples on hand which brands gave them to promote their brand.
If you ask nicely, they might give you some free diapers.
Need an Extra $1,000 to Buy Baby Stuff and Diapers?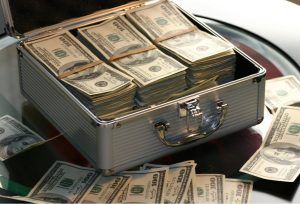 Very few people are aware, that the Government owes hundreds of millions of dollars to Americans in every state! 
Most people can get $1,000 (on average), according to NAUPA. People don't know they have money waiting for them, and until they ask for it, they'll never get it.
If you need extra cash, search for money the Government might owe you. See if you're owed money by going here.
And afterward, also go here to search for other unclaimed assets and money.
How Your Baby Can Buy its Own Diapers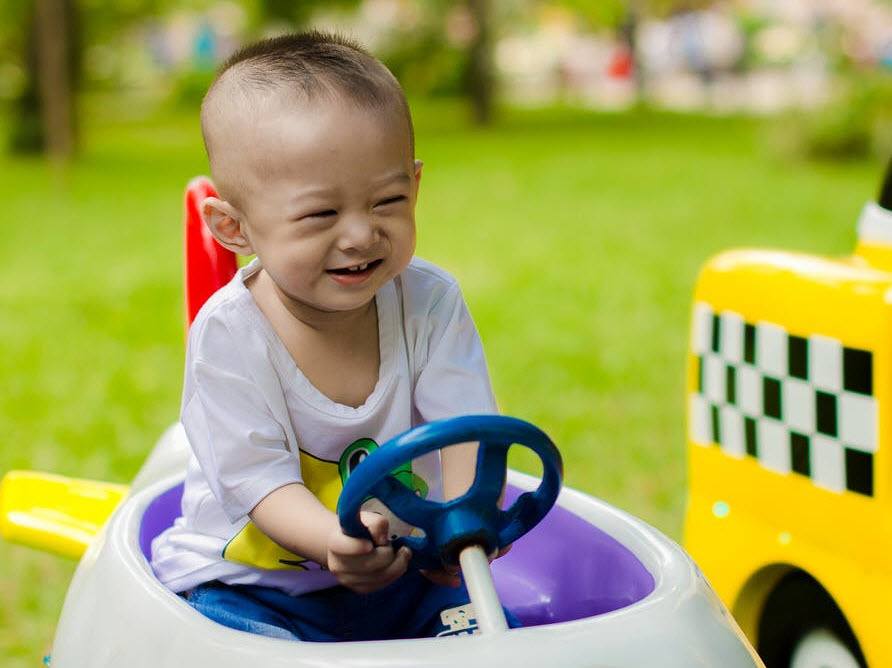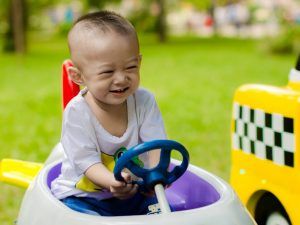 OK, that sounds a bit strange and you're probably wondering, "how the heck can my baby pay for diapers?"
Well listen up because it's true. Thousands of babies are making money for their parents and here's how yours can make money too.
Every week, 1,000's of companies, brands, TV networks, film production companies are looking for babies and kids with all sorts of looks and faces.
Your baby could earn $300 to $750 in just ONE DAY!
There are many modelling jobs for commercials, catalogs, baby products, toys, and movies & TV series.
Join KidsCasting website and start applying to casting opportunities.
KidsCasting is the biggest and best online casting for kids website with the most jobs.
Read this article to learn more about baby modelling.
Request Free Diapers by Mail from a Diaper Bank
Here's another way to get free diapers if you have low-income or no income.
What is a diaper bank? Diaper banks help provide free diapers for low-income families.
A diaper bank is a charitable community organization where some people donate diapers (including unused, excess diapers) and others who are in need get free diapers.
Unfortunately, the US Government doesn't have any financial aid programs to help parents get free diapers.
Therefore, moms who can't afford diapers, request free diapers from diaper banks.
If you're fussy about the type of diapers you want to use for your baby, a diaper bank is not for you. You'll receive donations of whatever diapers there are available.
Is a diaper bank a guaranteed way to get free diapers?
No, it isn't. There are millions of families who need free diapers (5.6 million babies need free diapers per year to be exact) so there's no guarantee there will be free diapers left for you whenever you need them. Still, it's something worth trying.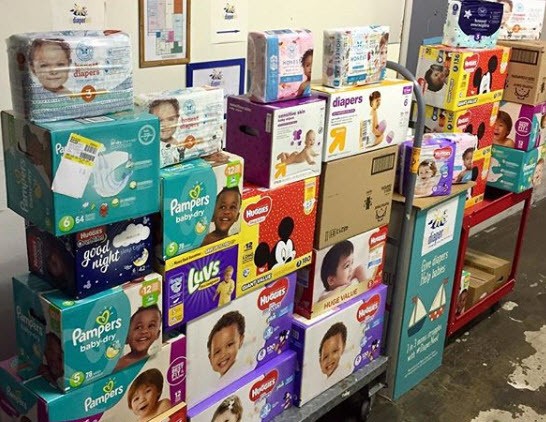 National Diaper Bank Network
The NDBN is the biggest diaper bank in USA. It raises awareness about the need for diapers, gets diaper donations from people in local communities, and gives free diapers for low-income families. The NDBN has 200+ diaper banks across America, and has given out millions of diapers since it's founding.
Check the NBDN's website to see if they have free Huggies diapers in your area. They don't have diaper banks in every area and don't always have enough diapers available for everyone.
As the founding sponsor, Huggies donated millions of diapers to the NDBN through their "Huggies Every Little Bottom" program. So you can expect to get only free Huggies diapers from the NDBN. If you don't like Huggies diapers or if your baby is allergic to Huggies, check out other diaper banks.
Visit this page to see a big list of free diaper banks nationwide, and find a diaper bank near you.
How to Get More Free Stuff Online for Babies and Moms?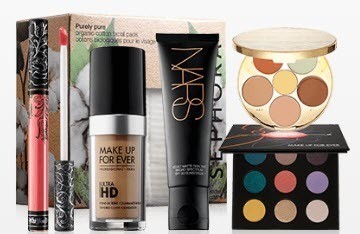 There are many more sites which give free stuff including household products, skincare products, makeup samples, and even new electronics to people in return for a review. Go here to see a big list of places to get free stuff.
All About Baby Diapers and Diapering
Questions about diapers and baby diapering?
Find helpful answers to all your baby diaper questions. 
"What is the Huggies Every Little Bottom program?"
Huggies helps poor parents who can't afford to buy baby diapers by donating free baby diapers to the National Diaper Bank Network (see link further up this page).
"Can you buy diapers with WIC or Food stamps?"
Unfortunately, no. Government Food stamps and WIC (Special Supplemental Nutrition Program for Women, Infants and Children) benefits can't be used to buy baby diapers. WIC groups baby diapers with pet food, cigarettes, and alcohol.
The Government does not have any program to help mothers in need get free baby diapers.
"Can I get Free baby diapers through Medicaid? Will Medicaid pay for diapers?"
According to HCD, Medicaid does not cover baby diapers, nor adult diapers.
The only type of diapers Medicaid sometimes covers are diapers for children age 4+ who have a special health issue such as autism.
Only in some cases, will Medicaid cover children's diapers when the child has been diagnosed with a particular health problem where they need diapers.
Also, Medicaid only covers children's diapers in some states. Diapers need to be considered part of a child's treatment in order to get free diapers with Medicaid.
Unfortunately, moms cannot get free baby diapers through Medicaid.
"What is the cheapest diaper brand?"
Luvs is the cheapest diaper brand. However, when you buy big packs of baby diapers, sometimes you can get diapers from other brands for less.
Luvs diapers cost around 10 cents per diaper.
Pampers diapers cost 24-26 cents each.
Huggies diapers cost 26 cents per diaper.
Bambo Nature diapers cost 43 cents each.
"Where to buy baby diapers online?"
Amazon is the world's biggest online store with millions of baby products and usually good prices. 
If you're an Amazon Prime member you'll get free shipping.
And if you're a member of Amazon Family you'll get 20% OFF baby diapers and baby products!
(You can get a 30-day free trial of Amazon Family membership.)
"How to diaper my baby?"
Baby diapering might seem scary and complex to new parents but really, it's quite easy.
However, there are some important things you need to remember when diapering your baby to avoid rashes, diseases, and health problems.
Go here to watch the best baby diapering video tutorials by experts and doctors.
"How to prevent baby diaper rash?"
The most common reasons why babies develop a diaper rash include:
Parents leaving their baby for too long in a wet or dirty diaper.
The diaper was tied too tight and the baby's butt or thighs were rubbed by the diaper.
Your baby is allergic to the diaper.
Your baby has a yeast infection or bacterial infection.
Read all about diaper rash treatments on WebMD.
Read all about the history of diapers on Wikipedia.
We hope this article helps you get all the free baby diapers and baby stuff you need! If you know of more places to get a baby box in the mail, comment below.