Lyft runs different new driver promotions whenever they get a boost in VC funding.
Recently, Lyft got another $10,000,000 in funding which they're using to attract more drivers by giving big signup bonuses and ongoing weekly driver bonuses.
Currently, you can get a $1,000 signup bonus earnings guarantee when you become a new Lyft driver using this special invite link!
This is a LIMITED TIME promotion which will END very soon.
It's free and fast to apply to become a Lyft driver.
Join Lyft now or you'll miss out on the driver signup bonus.
12 Lyft Bonus Cash Rewards for Activated Drivers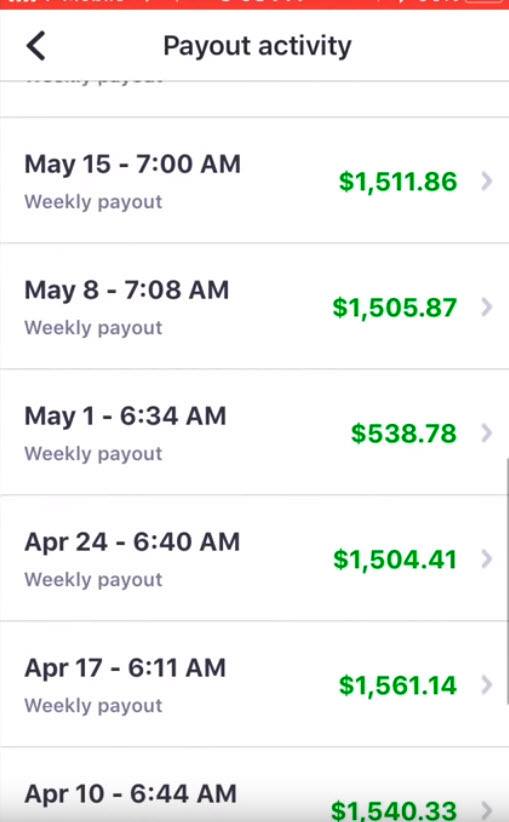 Instead of just giving a huge signup bonus, Lyft decided to give MANY kinds of cash bonuses to their drivers on a consistent basis to keep them driving for Lyft. You can earn multiple bonuses per week – which will add up to be MUCH more than the initial sign up bonus.
Here is a list of all the Lyft driver bonuses you can earn:
1) Weekly Earnings Guarantee Bonus Cash – get $$$ from Lyft if you don't meet your weekly earnings guarantee. Weekly earnings guarantees vary from city to city. After becoming a Lyft driver, you'll see your earnings guarantee in your driver's dashboard.
Example Lyft earnings guarantee bonuses:
Complete 50 rides/week to get $500/week. Complete 80 rides per week to earn $800/week.
To get a weekly earnings guarantee or hourly Lyft earnings guarantee, you'll need to accept at least 90%  of the rides Lyft offers you and work for 50 minutes each hour that you're in 'active drive' mode.
2) Lyft Driver Hourly earnings guarantee – similar to the weekly earnings guarantee, some drivers qualify for an hourly earnings guarantee. Leonid S. Knyshov got a $35/h earnings guarantee and was paid extra bonuses by Lyft when he didn't earn that much per hour due to no rides etc.

3) Peak Hour bonus – earn extra $$ for each ride you give and/or a big lump sum bonus at the end of the week for giving a certain amount of Peak Hour rides. (Peak hours are usually during morning and evening rush hours. After becoming a Lyft driver, you can see Peak Hours for your area in your Driver's Dashboard.)
4) Prime Time bonus cash – earn up to 8x MORE for each ride! A regular $5 ride might pay you $40! Prime Time fluctuates during the day. There are no set Prime Time hours. Prime Time occurs when many passengers need Lyft rides. Prime Time rides cost passengers more.
Here's an example where a Lyft driver got  $25 Prime Time Bonus:
5) Guaranteed Prime Time Bonus Earnings – Guaranteed prime time hours are set in advance each week. Give rides to passengers during these busiest hours and earn guaranteed extra cash for each ride.
rime Time extra earnings can be anything from 20% extra to 700% extra.
There are also special Prime Time hours during holidays and events which Lyft will notify you about in advance.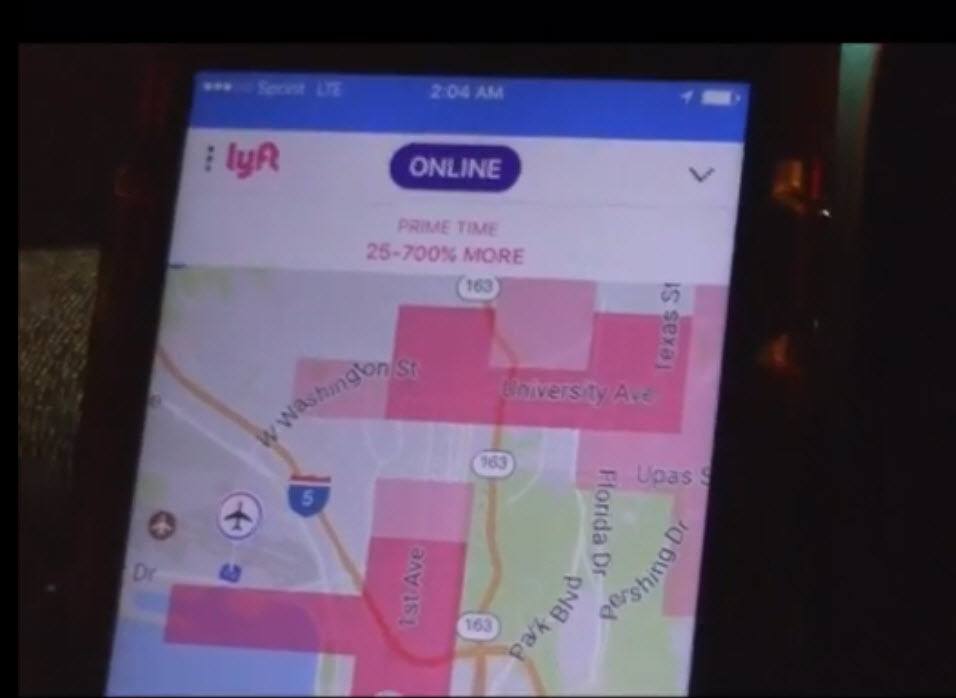 6) Streak Hour Bonus Cash – If you accept multiple ride requests for at least 1 hour, Lyft might give you a streak cash bonus reward.
Streak Bonuses are given out during certain hours in the day/night. Streak Bonuses are available in most cities. Check your driver's console to see when Streak Bonus Hours are available to you in your area.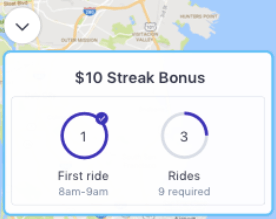 7) Power Zones Bonus – Earn up to $195 PER RIDE! At the beginning of the week, Lyft will notify you where this week's Power Zones are in your city. Power Zones are areas where you'll earn TOP BUCKS for each ride you give.
If you are in the Power Zone area, you are GUARANTEED to earn more for each ride you give.
(The Power Zones bonus is paid by Lyft and does not impact what the passengers pay.)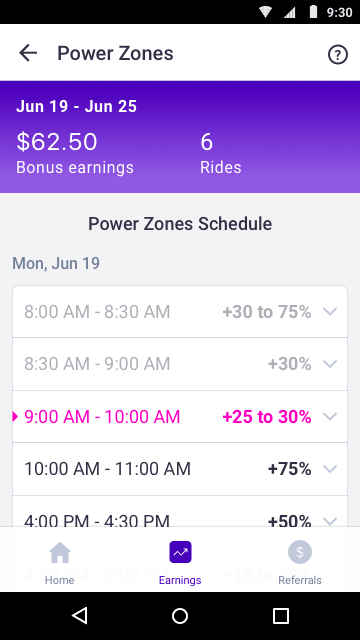 8) Weekly Ride Challenge Bonus – Get extra money (up to $750/week) bonus cash when you complete ride challenges! Ride Challenges are personalized for every driver and are based on individual driving history. Not all drivers will receive a Ride Challenge offer each week.
Some drivers will start by receiving a small Ride Challenge like $25 for completing 10 rides. The cash prize for Ride Challenges usually goes up every week.
Lyft & Uber Rideshare driver M. R. was offered by Lyft $740 to complete 80 rides in his city. He completed the required rides in 4 days, Monday through Thursday and got his cash bonus. Then he also completed on the weekend an Uber quest to get extra money.
Wallace Bodden made $56 in one hour driving for Lyft.

Some example Lyft driver earnings:
Michael got $500 bonus when he completed 45 rides.
Jose was offered by Lyft $750 to complete 70 rides.
Ride Challenges sometimes have additional tiers that allow you to earn more. Tiered bonus amounts are cumulative, meaning they add up.
You'll receive extra $$$ bonuses for each level you complete – like a fun game with real prize money.
In short, the more you drive, the more money you'll make.
9) Good Feedback Bonus – Drivers who consistently get good feedback from passengers, may receive a surprise cash bonus from Lyft.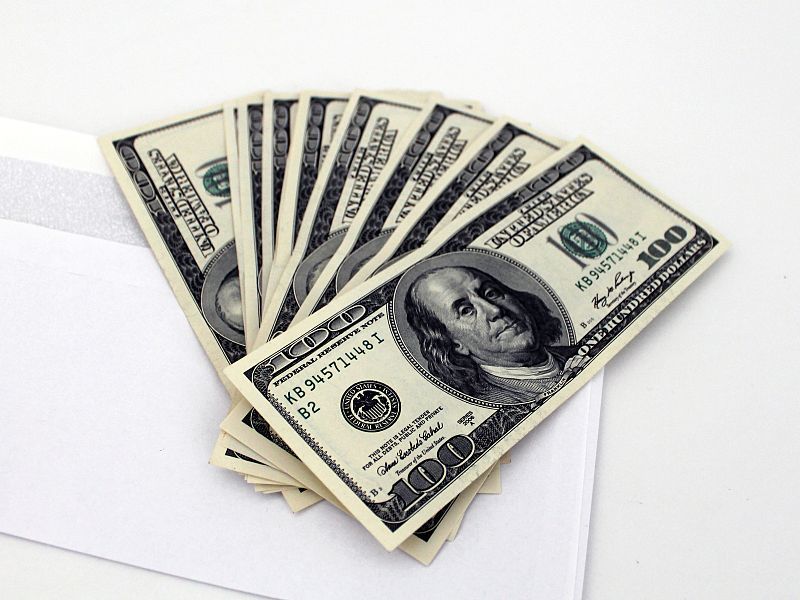 10) Passenger referral bonus. Refer new passengers to Lyft and get a $10 bonus.
The passenger gets a $20 free rides bonus and you get $10 bonus from Lyft.
How can you refer new passengers to Lyft?  After all, those people taking rides from you already have Lyft, right?
Here's how to refer Lyft passengers: Print out business cards with your special Lyft referral code on them. After giving a Lyft passenger a ride, ask him how it was and if he's happy, ask him to help you by handing out your business cards to his friends.
Many passengers are happy to help and will gladly pass around your business cards to their friends – because it's a win-win. Their friends get $20 in free rides and you get $10 bonus gift from Lyft.
If you get 100 people joining per month, you'll earn an extra $1,000/mo WITHOUT working!
You can also post your passenger referral codes online.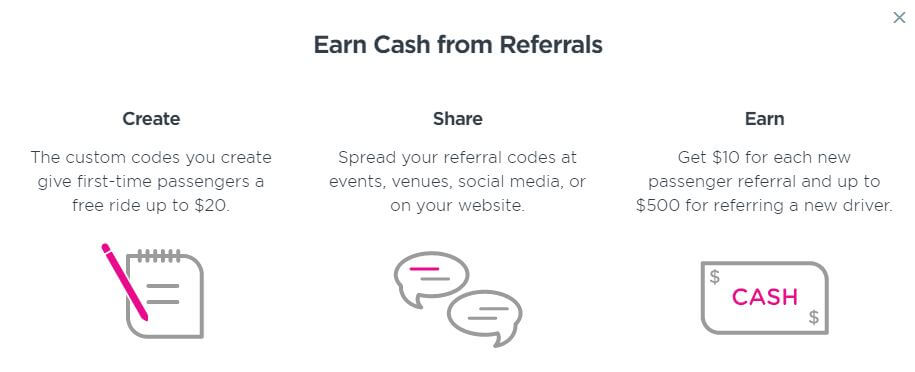 11) Earn up to $500 PER DRIVER you refer! After becoming a Lyft driver, you can make easy, fast cash with little to no driving by just referring other drivers. Post your special driver referral codes online, in forums, in reddit, and on your social accounts to make extra money.
Refer merely 10 new drivers each month to earn $5,000/mo – that's more than many managers and executives earn!
Sometimes, Lyft even gives a driver referral bonus up to $750 per driver you refer.
Leonid S. Knyshov got a $750 driver referral bonus (as well as a whole load of other bonuses) in one week. He earned more from bonuses than he did from driving for Lyft!
 12) Weekly Power Driver Bonus $$$ – This bonus program rewards drivers with cash bonuses and lower Lyft fees when they complete a certain amount of rides that week.
Drivers who earn a power driver bonus, can get up to 95% of their commissions back from Lyft!
That means, you only have to pay Lyft 5% of your income and you keep all the rest.
Lyft driver Dan Albertson says, "I did 800 Uber rides before switching to Lyft and now I make much better money and pay Lyft as little as 5%, yes 5%, if I do 60 rides a week."

You can get a Lyft power driver bonus in addition to a streak bonus, a peak hours bonus, a weekly income guarantee bonus, a Prime Time bonus, a power zones bonus, per ride bonus for new drivers, signup bonus, and ride challenge bonuses which Lyft runs.
How much is the Lyft Power Bonus for Drivers?
It varies from city to city. Some drivers get a 20% power bonus, while in other places some drivers (like Dan) get a 95% bonus.
Here are some examples of the Lyft Power Bonus:
Driver Leonid S. Knyshov got a $250 bonus one week from Lyft for completing 20 more rides that week than during his previous week.
Driver Martin R. was offered a $740 Lyft bonus for completing 80 rides in his city that week. He says it's easy to complete 80 rides because even short 5-minute rides count!
Martin completed those 80 rides in just 4 days and then also completed an Uber quest on the weekend to get 2 bonuses (one from Uber and one from Lyft).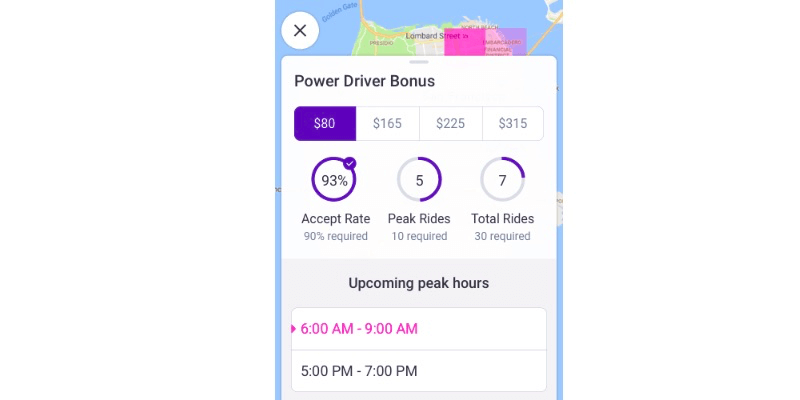 Not sure if Lyft will approve your driver application? Here are their requirements for new drivers in 2019.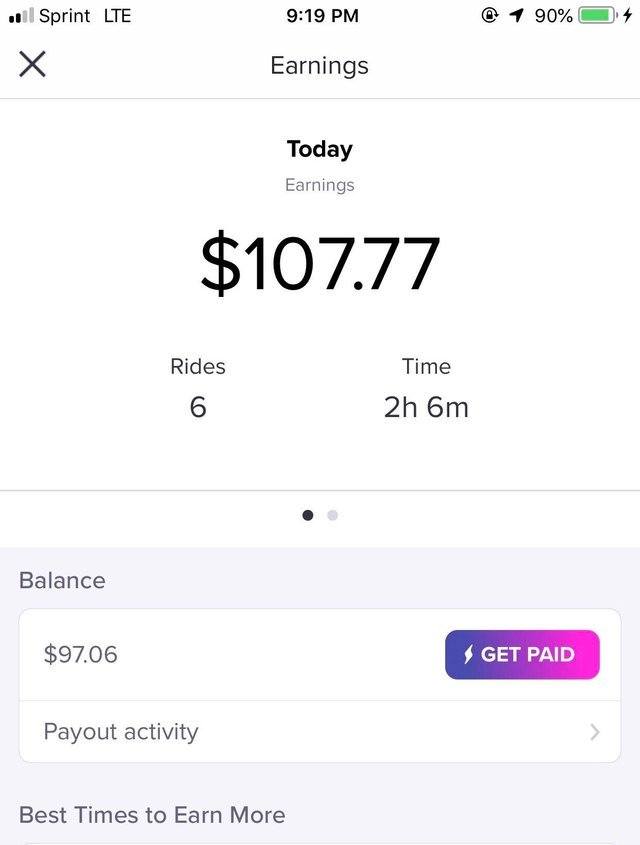 Lyft driver requirements:
21+ years old.
Valid driver's license.
You don't have to own a car. You can rent a car from Lyft's Express Drive rental program.
If you have your own car, you'll need a valid in-state insurance policy with your name on it.
No convictions for major crimes (robbery, rape, murder, arson, etc.) within the past 7 years.
No more than 3 driving incidents within the last 3 years.
Consent to a background check and DMV check.
Car requirements for Lyft drivers:
The car has to be no older than 10 years (in some cities 8 years).
Has 4 doors and 5 seatbelts.
Doesn't look too crappy with major damages.
Your name is on the insurance policy.
About the Lyft driver application process:
After receiving your new driver application, Lyft will take 3-10 days to get back to you.
Once you're approved, you'll need to come to a meeting with your Lyft mentor. The meetings are usually 30minutes to 1h long during which time you'll drive around with your mentor and receive valuable tips on how to make more money working for Lyft.
When you become an activated Lyft driver, you can start to drive for Lyft right away.
You'll receive your bonus 1-2 weeks after becoming an activated driver.
During your first 1-2 months driving for Lyft you'll get extra bonus money on each ride you give.
What does Lyft charge drivers?
Lyft takes a 20% commission from your earnings, however, the more you drive, the less you'll pay Lyft!
Lyft driver Dan Albertson says, "I pay Lyft as little as 5%, yes 5%, if I do 60 rides a week."
Plus, you keep 100% of tips you earn as a Lyft driver. Tips are a big deal! Some drivers make an extra $250 per week just in tips.
How much do Lyft drivers make from bonuses?
Here's an example of what Lyft driver Leonid S. Knyshov made from Lyft bonus promos. He only drove 10 hours and made $1,287 because he got many different kinds of bonuses including an amazing $750 bonus for referring another Lyft driver.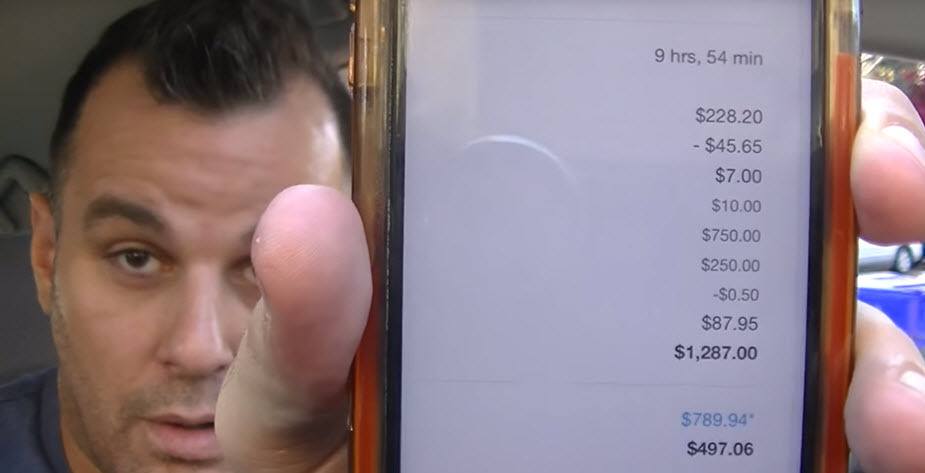 How much do Lyft drivers make from tips?
That depends. If you're a good driver and people like you, you'll earn more tips. Mostly if you drive in rich areas, you'll earn a lot more tips than if you drive in poorer areas, however, in some areas the rich people are stingy snobs who don't tip well.
If you drive drunk people at night, you're likely to earn good tips because they're drunk and spend money easily. 
Often, passengers treat their Lyft driver as if the driver were a shrink and share their problems. If you listen well and pretend to understand their problems and sympathize with them, you'll get good tips.




How to Make More Money Driving for Lyft?
Why do some drivers drive less than others and make the same money every week as those who drive a lot more?
Driving for Lyft can be very profitable if you're a nice, polite, careful driver and spend some time getting to know the best spots to drive in your city.
Here are some ways to earn more money as a Lyft driver:
Keep your car clean. Some drivers have a dirty, smelly car. They don't get good tips from passengers! Tips add a lot to your Lyft driver earnings.
Offer your passengers some treats – gum, candy, or a bottle of water. They'll be grateful and in return give you a bigger tip.
Pay attention to weekly Lyft driver challenges, weekly bonuses, and peak hours/guaranteed prime time. Driving during prime time and peak hours will help you earn more money for the same work.
Lyft Driver Benefits and Rewards:
Asides from all the generous cash bonuses for Lyft drivers, you can also get other savings and perks by driving for Lyft.
Save an 20% on road side assistance as a new driver or get FREE roadside assistance when you're a platinum level driver (the more you drive the higher level you get – after driving full-time for 10 weeks you should have achieved platinum level).
Lyft Express drive users get free roadside assistance. (i.e. drivers who use the Lyft car rental service.)
Save on gas with a Shell Fuel Rewards account.
Save on car parts and accessories.
Save on movie tickets, theme parks, and more.
Save on fitness memberships and wellness treatments.
Save on Doctors on Demand visits.
Free roadside radar assistance for Platinum drivers.
Free tax filing assistance.
About the Lyft $500 – $1,000 Bonus Promo:
When Lyft first launched years ago, they were offering new driver bonuses up to $1,000.
They've been lowering their signup bonuses as they got more drivers and more people know of them.
Once this current sign-up bonus promotion ends, they might never offer a signup bonus again.
Uber also used to offer signup bonuses which they no longer offer.
Go here to apply to become a Lyft driver to snag the current $$$$ bonus before the promotion ends.
(By applying to drive for Lyft you are under NO obligation to drive for them. You can always stop working for Lyft whenever you want.)
Lyft Driver Promo Code FAQ:
Get all your questions answered about Lyft promo codes and bonus codes for drivers.
What is a Lyft driver promo code?
It's the same thing as a signup bonus. To get a signup bonus,  join Lyft from this special invite page and enter this signup promo code: Extra300.
What is the Lyft driver sign-on bonus?
An easy way to earn more during your first month or two driving for Lyft.
It's only available for new drivers.
How many people use Lyft?
According to TechCrunch, 23 million passengers use Lyft! Lyft drivers give 1 million rides per day.
Read more info about driving for Lyft on this page.
How much money do Lyft drivers make?
Go here to see real income screenshots from Lyft drivers and hear what Lyft drivers have to say.
How much is the Lyft new driver bonus?
That depends on Lyft's current promotions and your city.
Currently, Lyft is offering a $300 signup bonus nationwide.
How do I get my $500 LYFT bonus?
The Lyft $500 bonus expired on December 31st, 2017. The current Lyft bonus is $300.
What is the difference between a Lyft driver referral code, bonus code or promotion code?
The Lyft bonus code or Lyft promo codes are different words for the same thing. It's a Lyft signup bonus for new drivers. The Lyft driver referral code is a code you'll get after becoming a Lyft driver. When other drivers use your code to join Lyft, you'll earn a nice, fat Lyft bonus (up to $500!). Some drivers hardly drive for Lyft at all and make a really nice monthly income just sharing their Lyft driver referral codes online in forums.